Thomas Orr,
ISJ Mountainbiking club was started in the Early days of Carona, we wanted a way to keep social (without social media). We are open to anyone 4th grade or above who can ride a bike joining us and we will teach you how to a MTB ride on the trails. We might be able to arrange a loan bike or help with hiring for the first couple of days, depending on availability.
The Club is run by Chris Jackson (parent) and Thomas Orr (teacher) with the aim to enjoy the outdoors support each other and get better at riding MTBs. Out home track is Hareskov, we normally take a train after school on Thursdays and meet at Hareskov St car park. We ride for about 1 ½ hours, working on skills such as jumping or just lapping the trails. 
Recently we have started trying new trails around Copenhagen as well. Occasionally we will meet up on the weekends and have been riding in Tisvildeleje and plan to do more of these trips over the winter. Parents are also very welcome to join, we have once have more adults than students. 
More info: http://bit.ly/isj-mtb og email Thomas tor@sanktjoseph.dk
Read more: ISJ MTB CLub rider profiles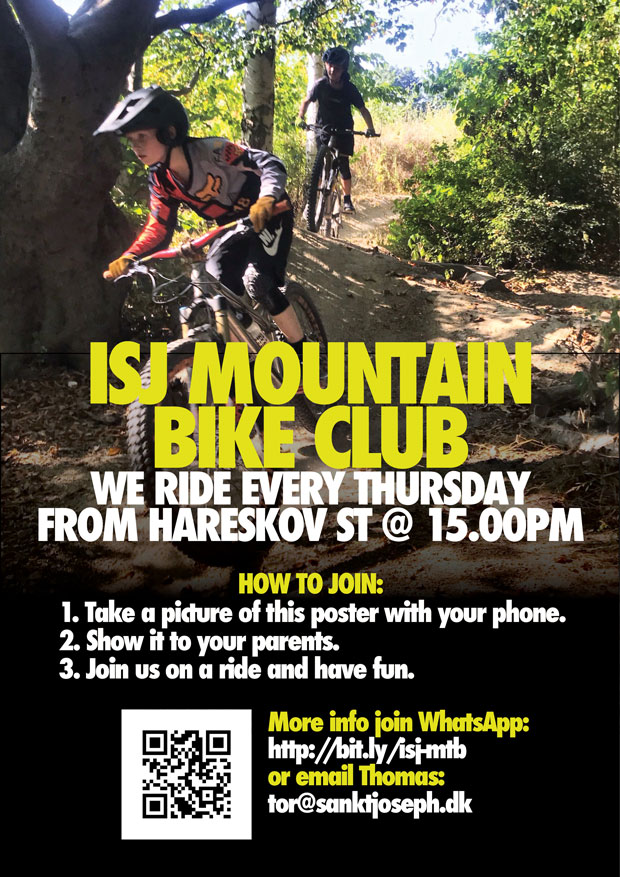 URL: https://sanktjoseph.dk/join-isj-mountainbiking-club/